Ayami Kojima Artist Profile & Artworks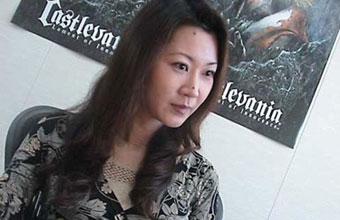 Ayami Kojima is a Japanese artist renowned for her highly praised character designs and illustrations in the Castlevania video game series. She is notable for being a self-taught artist who has developed a routine of personal drawing techniques that earned her a very distinctive art style, which has been featured in a number of art technique books.
Kojima established herself as an accomplished freelance artist and illustrator well before taking on the roles of a character designer and illustrator for video games. Her early work as an artist began with illustrating covers for a wide range of novels, such as Cluster Saga and Nobunaga's Ambition, not to be confused with Koei's game series of the same name. She has also provided black and white illustrations for page content, in particular for the Majin series and a variety of other novels by Kikuchi Hideyuki, the creator of Vampire Hunter D.
The beginning of Ayami Kojima's Castlevania fame started with Konami's 1997 release of Symphony of the Night for PlayStation. Fans of the series immediately fell in love with her suitably themed artwork, ensuring her return as character artist for Castlevania Chronicles, a remake of the 1993 Akumajou Dracula that was originally released only in Japan on the Sharp X68000 home computer. As the Dracula-hunting series expanded onto Game Boy Advance and successive iterations of PlayStation and Xbox family hardware, Kojima's familiar character designs and breathtaking promotional illustrations returned again and again, much like the series enduring antagonist himself.
Illustration by Kojima from our Castlevania: Symphony of the Night art gallery.
Although Ayami Kojima has also created art for several Koei games through the years, such as Söldnerschild and Dynasty Warriors, it is Castlevania that has become inseparably attached to her name. Her surreal and Gothic designs, sometimes featuring religious undertones, are incredibly well-matched to the series' setting.
Kojima has stated that she has a fascination for creepy movies and surgery, both of which are likely inspirations for her subject matter, which have at times included some chilling depictions. The artist has also admitted to being a long-time fan of shounen manga, despite the majority of it catering toward a young male audience.
Regarding her unique drawing style and affinity for using acrylic gouache, Kojima says she began painting with watercolor paints and colored pencils while she was still attending school. She used to enjoy visiting painting shops and buying new drawing materials based on how attractive the packaging was, even if she had little knowledge of how to use it. In this way, she became familiar with many traditional drawing media and learned how to use them through trial and error.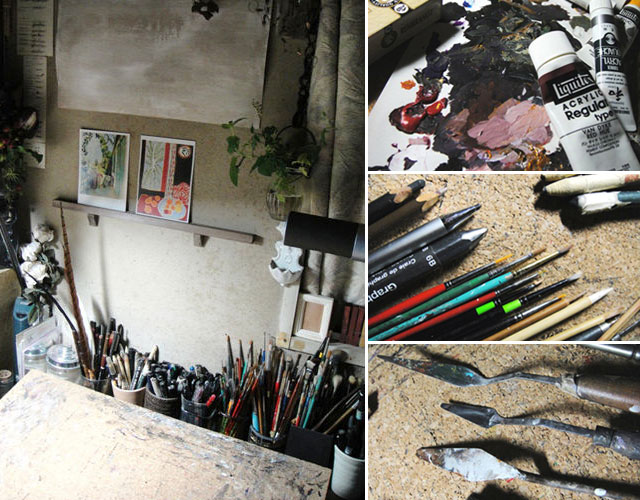 Tools of an artist. Ayami Kojima's workspace is stocked with traditional drawing media.
Kojima has been featured in several art technique books, such as the Japanese Color Kingdom series and the Comickers magazine series, which showcase techniques used by popular Japanese manga artists as well as western comic artists.
The series of personal techniques Kojima typically employs in her paintings is to first make a rough sketch with conté crayon sticks or pastels, then create shadows with more conté and india ink. Depth and textures are often added, usually to the background, by spreading and shaping molding paste with a palette knife to create her three-dimensional signature art style. Base colors are then painted into the work using diluted acrylics. As more prominant coloring is added, finger smudging is used to create glows. The work is then brought to completion with metallic paint highlights and finishing touches, and enhanced with a gloss polymer finish.
A detailed step-by-step look at the whole process is featured in the third issue of the Japanese Color Kingdom art technique book series, which also features the process of fellow game artist Shinkiro (Toshiaki Mori).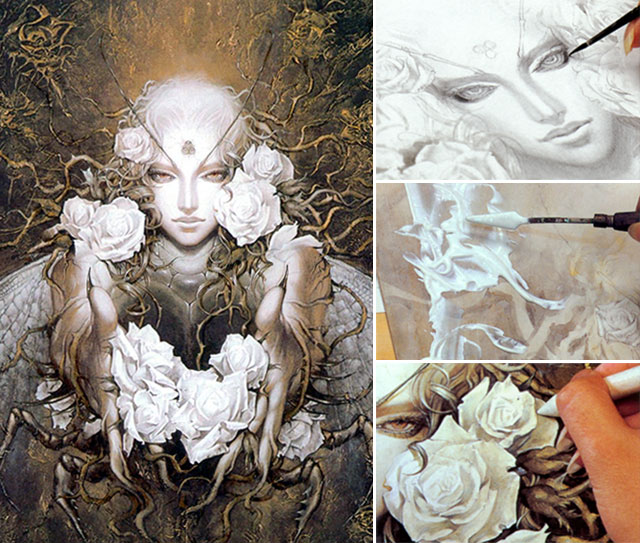 Ayami Kojima drawing method detailed in Color Kingdom 3. From top to bottom: India ink shadowing, palette knife texturing, and the addition of highlights.
Kojima's involvement in the games industry has been fairly absent in recent years, and sorely missed, but the Kickstarter for Bloodstained: Ritual of the Night has secured her cooperation for a special packaging artwork for backers at the $100 level. A collection of her work can be found in the art book Santa Lilio Sangre - Ayami Kojima Artworks (Amazon link), which includes illustrations and concept art from the Castlevania series, in addition to non-gaming projects.
Games featuring Ayami Kojima art. Available art galleries are linked.
1997
1998
Söldnerschild (SS) (character design, promotional illustrations)
1998
Ishin no Arashi Bakumatsu Shishiden (PC, PS) (character design, cover illustration)
1999
Chou-Denki Card Battle: Youfu Makai - Kikuchi Shuugyou (WS) (card design)
2001
Castlevania Chronicles (PS) (character design & illustration)
2002
Castlevania: Harmony of Dissonance (GBA) (character design & illustration)
2003
2003
2005
2005
Sangokushi TCG (card illustrations for Zhou Yu and Zhuge Liang)
2007
2009
2010
Castlevania: Harmony of Despair (PS3, 360) (character design & illustration)
2011
2013
2019