Yoji Shinkawa Artist Profile & Artworks
Yoji Shinkawa, born on December 25, 1971, in Hiroshima, Japan, is a renowned Japanese artist known for his exceptional talent in character and mecha design. His work on the Metal Gear series has earned him worldwide recognition and critical acclaim for creating some of the most iconic gaming characters of all time. His artistic journey began at a young age, spending countless hours drawing and writing, as well as crafting kaiju (giant monsters) out of clay. His passion for art led him to study western painting and oil painting at Kyoto Seika University, where he honed his skills and developed a deep appreciation for various artistic styles.
As a child, Shinkawa aspired to become a manga artist or painter. However, he realized that the skill set required for manga was quite different from that of a painter, so he elected to focus on the latter. He was also an avid gamer, but he found that many game characters at that time were simplistic. This inspired his dream to create more realistic, hard-boiled characters for the gaming industry, which ultimately led him to apply for a job at game development company Konami in 1994.
Hideo Kojima, a renowned game director and producer at Konami, recognized Shinkawa's exceptional talent during the hiring process, describing him as a rare find that comes along once every 10 years. Kojima was particularly impressed with Shinkawa's diverse portfolio, which showcased four distinct styles, including American comic and French comic styles. It was hard to believe they were drawn by the same person. Of the thousands of portfolios from potential candidates that Kojima had graded up to that point, Shinkawa's was the first one that he instantly awarded a perfect "S" grade, highlighting the extraordinary skill and versatility of the budding artist.
Samples of Yoji Shinkawa's art portfolio for his job application at Konami.
Shinkawa started out in Konami as a debugger for the original PC-9821 version of Policenauts. He later served as art director and graphic designer for the console ports of the game, where he created early versions of now iconic characters such as Snake and Meryl Silverburgh, as well as the FOXHOUND group, all of whom would later appear in the popular Metal Gear Solid series.
Yoji Shinkawa's career took a momentous turn when he had a follow-up interview with Hideo Kojima about what department he wanted to be a part of, in which the idea for a new Metal Gear project was discussed. Shinkawa was deeply interested in the project, which would soon bring him worldwide acclaim for his instantly recognizable art style and for giving a face to some of gaming's most memorable characters. In his role as the lead character and mecha designer for the Metal Gear Solid franchise, he conceptualized such legends as Solid Snake, Big Boss, Revolver Ocelot, and Gray Fox. One of his early tasks was to design the Metal Gear REX mecha, an endeavor that proved very challenging due to a laundry list of specific requests from Kojima. To overcome this, Shinkawa decided to build a physical model of REX from scratch, spending a month and a half painstakingly crafting it from clay in his own home.
Shinkawa built a detailed solid model of Metal Gear REX in order to perfect the design.
In addition to his extensive work on Metal Gear spanning nearly two decades, Shinkawa has also contributed to other notable games, such as Zone of the Enders, where he served as the mechanical designer. He wasn't initially part of the project, but he noticed that the development team was having a lot of fun, so he showed producer Kojima some of his robot sketches from his early student work. Impressed with his ideas, Kojima entrusted him with the mecha design for Zone of the Enders, where he incorporated sketches from his school days into the game, creating iconic mechas like Jehuty and Anubis. Another idea incorporated from his time as a student was the unique cockpit design, quite fittingly located at the groin of the mechas.
Shinkawa's school sketches were repurposed for Zone of the Enders. Fortune (top left) was renamed to Jehuty, an alternate spelling of the god Djehuti, to match the Egyptian theme of Anubis (top right). The cockpit (bottom) also featured in the game's mechas.
Shinkawa's artistic style is a fusion of eastern contemporary and traditional Japanese ink wash painting, known as sumi-e. His bold strokes and minimal shading reflect the Japanese/Chinese tradition of "capturing the spirit" of the subject. His typical process starts with rough, doodle-like sketches to refine the image he envisions, most often using a pencil or brush pen on paper. Pentel brush pens are a personal favorite, particularly the XFL2V (Sukiho) type. He then scans the designs into a graphic program like Photoshop, where he makes adjustments and adds the finishing touches. While he prefers drawing by hand, he's also comfortable with a stylus and computer, using Painter for line work and Photoshop for painting.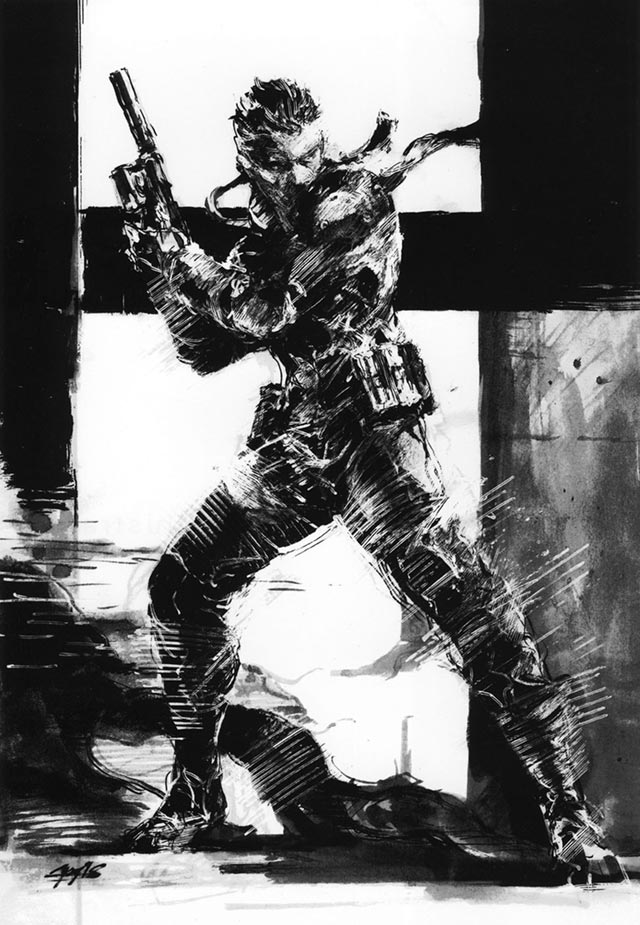 One technique sometimes used to get a rough look in Shinkawa's sketches, such as this one of Solid Snake from our Metal Gear Solid art gallery, is to paint on top of regular copying paper repeatedly with thin black ink and correcting ink until it becomes crispy. In the end, material from underneath shows up as if it were oil painted.
Yoji Shinkawa's unique art style is the result of his lifelong love of art and his willingness to experiment. He has said that he developed his style by imitating the works of other artists, which he recommends as a powerful way to develop artistic skills. He cites Final Fantasy artist Yoshitaka Amano as having the greatest influence on him, and he particularly admires Amano's brush work. In addition, Kou Yokoyama's mechanical designs have lent inspiration to Shinkawa's own mechanized illustrations. Other artists that have been of particular influence include Japanese manga artist Yoshikazu Yasuhiko, British artists Willy Pogany and Aubrey Beardsley, American artist Frank Miller, and French artist Mœbius (Jean Giraud).
Comic book styles have also served as inspiration through the years. His personal favorites are the American Jim Lee's WildCATS and Hellboy, and the Japanese Ashita no Joe and Ganbatte Genki. Anime too has been a source of influence, with popular series Gundam and Five Star Story being cited as favorites.
Death Stranding cover art for video game magazine Famitsu, illustrated by Shinkawa.
In 2015, Konami and Hideo Kojima had a falling out, one that would eventually lead to Kojima setting up an independent studio. Following the shake up, Shinkawa was frequenting museums and gallery shows, getting inspiration from the artwork. He happened to run into Final Fantasy artist and mentor Yoshitaka Amano. He told him he was leaving Konami and Amano responded "You're going with Mr. Kojima right? It's definitely best to stick with him."
Shinkawa subsequently joined the new Kojima Productions studio without an invitation, considered it a natural next step. He settled into his familiar role as art director, character designer, and mechanical designer for the studio's first game, Death Stranding.
Kojima has expressed his desire to incorporate more mecha design work for Shinkawa into his future projects, as Death Stranding lacked in that aspect. Potential avenues for this could be an anime or movie project that feature Shinkawa's unique designs. Whatever the future may hold, Kojima and Shinkawa both feel that while Death Stranding may be considered "weird" by some, it aligns with their previous work. In fact, they feel compelled to create even stranger and more unconventional games in the future, pushing the boundaries of what is considered normal in the world of gaming.
Games featuring Yoji Shinkawa art. Available art galleries are linked.
1994
Policenauts (PC, 3DO, PS, SS) (mechanical design)
1998
2000
Metal Gear: Ghost Babel (GBC) (illustrator)
2001
Zone of the Enders (PS2) (mechanical design)
2001
2003
2004
Fu-un Shinsengumi (PS2) (illustrator)
2004
Metal Gear Solid: The Twin Snakes (GC) (art director, character design, mechanical design)
2004
2005
Fu-un Bakumatsu-den (PS2) (illustrator)
2006
Metal Gear Solid: Portable Ops (PSP) (character design)
2008
2010
2013
2014
Metal Gear Solid V: Ground Zeroes (PS3, PS4, 360, XB1, PC) (art director, character design, mechanical design)
2015
2017
Call of Duty: Black Ops III - Zombies Chronicles (PS3, PS4, 360, XB1, PC) (illustrator)
2019
2019
TBA
Death Stranding 2 (PS5) (art director, character design, mechanical design)
This website relies on the display (not clicks) of ads to survive. If you are using AdBlock, please consider clicking the ABP icon and disabling it for this site. If you wish to support us without seeing ads, you can back our Patreon page for as little as $1. Thanks!
TOP 10
CONCEPT ART GALLERIES
01
02
03
04
05
06
07
08
09
10