Killzone 2

Art & Game Info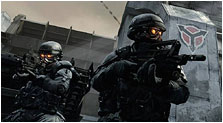 Game Screenshot
Game Developer(s)
Game Publisher(s)
Guerilla Games
Sony Computer Ent.
Game Genre(s)
First-person shooter
Game Release Date
PS3
Feb 27, 2009
Feb 27, 2009
Apr 23, 2009
Game Artist(s)
Xavier Marquis, Matt Allsopp
NEW VIDEO GAME CONCEPT ART
This website relies on the display (not clicks) of ads to survive. If you are using AdBlock, please consider clicking the ABP icon and disabling it for this site. If you wish to support us without seeing ads, you can back our Patreon page for as little as $1. Thanks!
TOP 10
CONCEPT ART GALLERIES
01
02
03
04
05
06
07
08
09
10